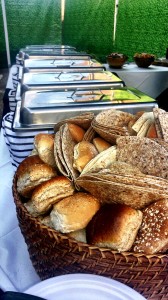 With years of experience behind us and exciting times ahead, here at Hog Roast Middlesbrough, we are just as passionate about what we do today as we were when we first started. The ancient method of hog roasting is in our opinion, by far the best way of cooking meat, as it produces a depth of flavour and tenderness that other cooking methods simply cannot create. We have taken this traditional way of cooking to whole new levels with our innovative modern menus that offer choices to suit all tastes, all diets and all occasions. Whilst we may specialise in slow-roasted pork, our skilled caterers are equally adept at preparing a wide variety of different meats, vegetarian options, canapes, and even desserts!
How Do We Operate?
Customer satisfaction is the driving force behind what we do. From one of informative team members taking your initial enquiry, to our on -site staff clearing everything up after the event, we ensure that everything is exactly how you want it every step of the way and no detail is overlooked.
We will always listen carefully to your requirements and let you be in the driving seat when it comes to your choice of menu and the style of service you require. We can offer bespoke packages and incorporate dishes that suit any dietary requirement into all of our catering options and provide an informal buffet or a formal sit-down meal with table service, depending on the nature of your event.
The Hog Roast Middlesbrough team are constantly coming up with new ideas and adapting our approach to meet your needs, which makes us not just the go to option in the local area for traditional hog roasts, but for a wide variety of other catering needs too.
What Venue Is Suitable For A Hog Roast?
We are capable of cooking in any outdoor space or indoor venue in the whole of Middlesbrough. We are a mobile catering company in the truest sense of the word and can cook for any size of event in any location, whether it be a corporate event at the Riverside Stadium, an intimate private party on the quayside or a large outdoor wedding in the countryside on the Yorkshire-Northumberland border.
Furthermore, regardless of what we are cooking and where we are cooking it, every single dish provided by Hog Roast Middlesbrough is always freshly prepared on-site using only the best locally-sourced ingredients. Learn more about us by giving us a call today!